Certification
VCA
The "Veiligheids Checklist Aannemers", VCA, (Safety Checklist for Contractors) offers the contractor an excellent business tool for detecting any weak spots in the concern for safety, health and the environment. This in turn leads to more careful and efficient working practices, less damage from accidents, more continuity, and results in cost savings. The VCA is a general, comprehensive plan, VCA ** and a limited plan, VCA *. The latter was designed for smaller businesses that do not sub contract and undertake extremely hazardous work.
Q.S. Inspection B.V.
Increasingly more waste and waste disposal sites. That means rising usage of foil to close them off. Concrete and steel pipes are increasingly replaced by HDPE and other plastics. Q.S. Inspection B.V. takes care of the supervision and control of the whole process of installation, welding and testing. The inspectors have a good knowledge of welding methods and procedures. They offer a helping hand with the preparation, supporting, and drawing up of welding method specifications and welding method as well as welders' qualifications. The welders at DL PLASTICS B.V. are qualified by Q.S. Inspection B.V. in accordance with Welding recommendations DIV.499.1130. DIV.499.1130 door Q.S. Inspection B.V. gekwalificeerd.
KIWA
The KIWA Process Certificate BRL K 537/05 & BRL K 537/02 has been issued to us. The process certificate "Verwerken van kunststof folie" (Processing of plastic foil) refers to the quality of execution and processing of plastic foil to protect the environment, for example: top and bottom sealing of waste disposal sites, oil tank terminals, wastewater basins, soil and sludge depots and sealing membranes for hydraulic and environmental engineering.
SCC* 2008/5
Bureau TUV The Netherlands has declared that the Safety, Health and Environmental Management Systems of DL Plastics B.V. has been audited and found to be in accordance with the requirements " Conform de norm VCA* 2008/5.1 " On site processing and installing of synthetic liners and synthetic sheets for environmental and civil engineerings projects. NACE Code F 42.90.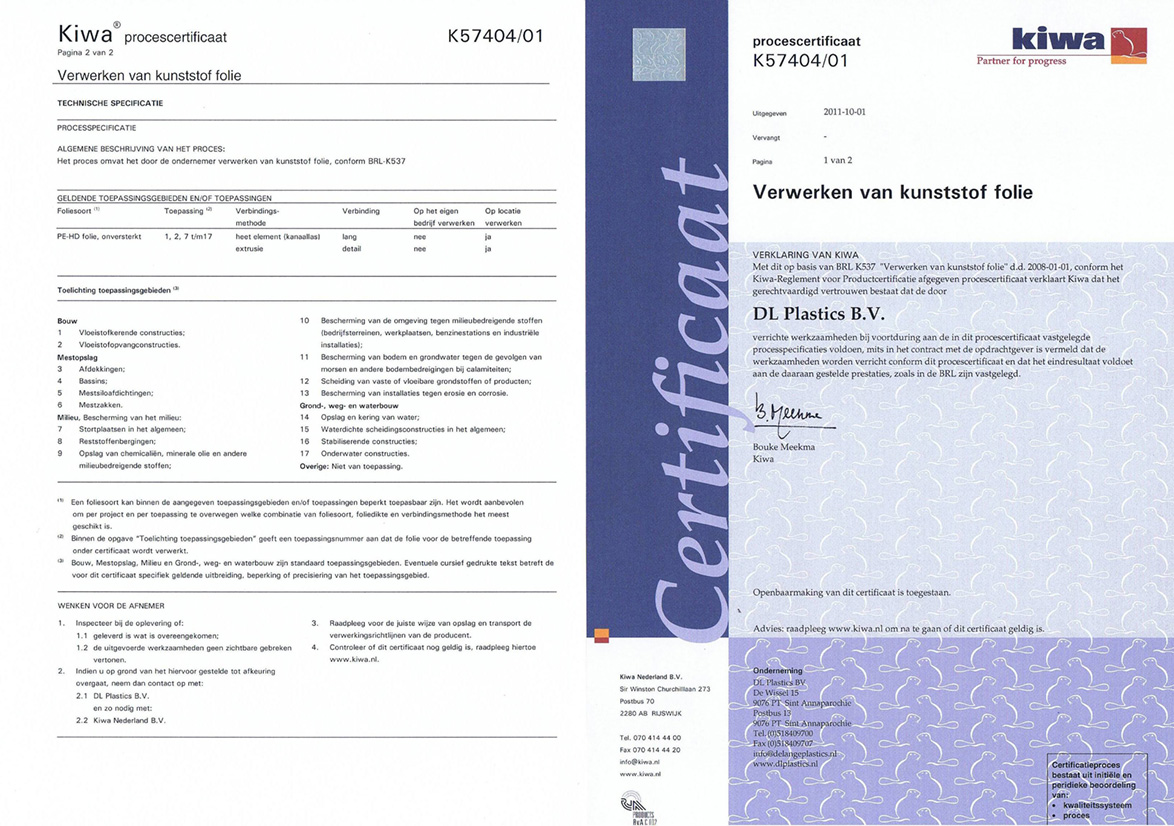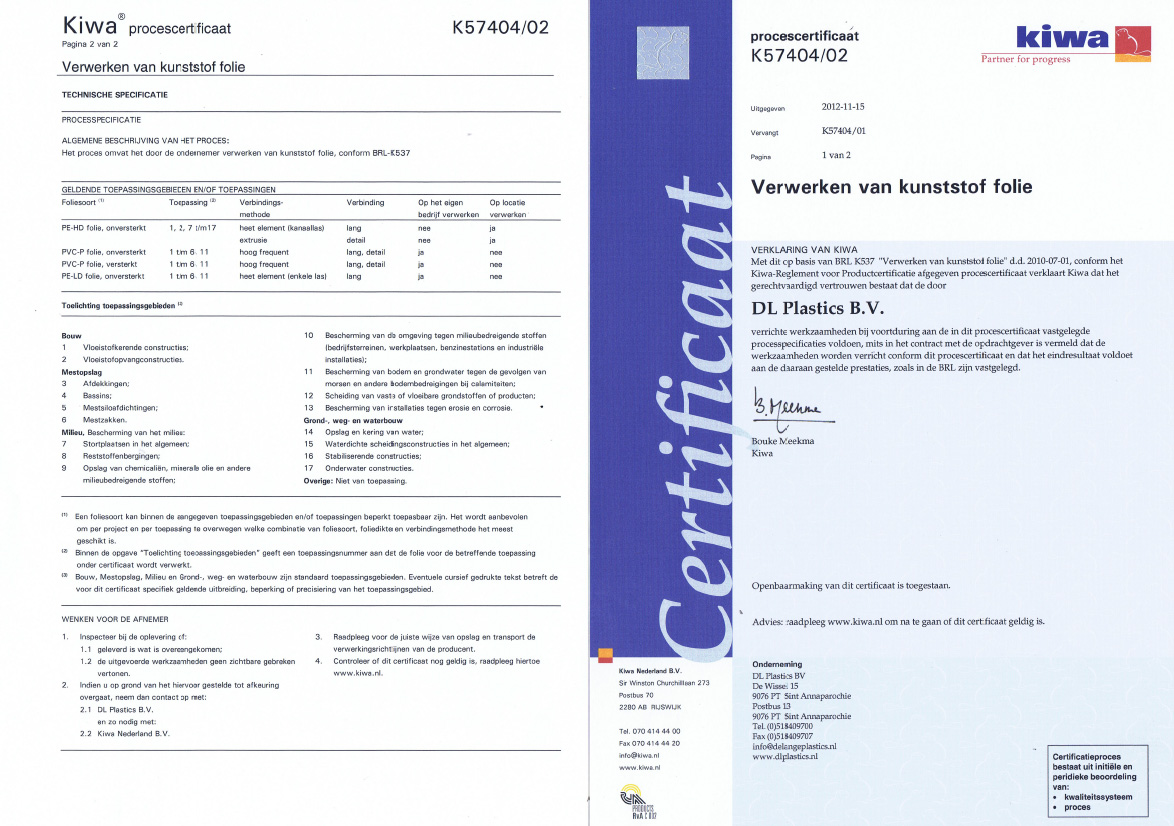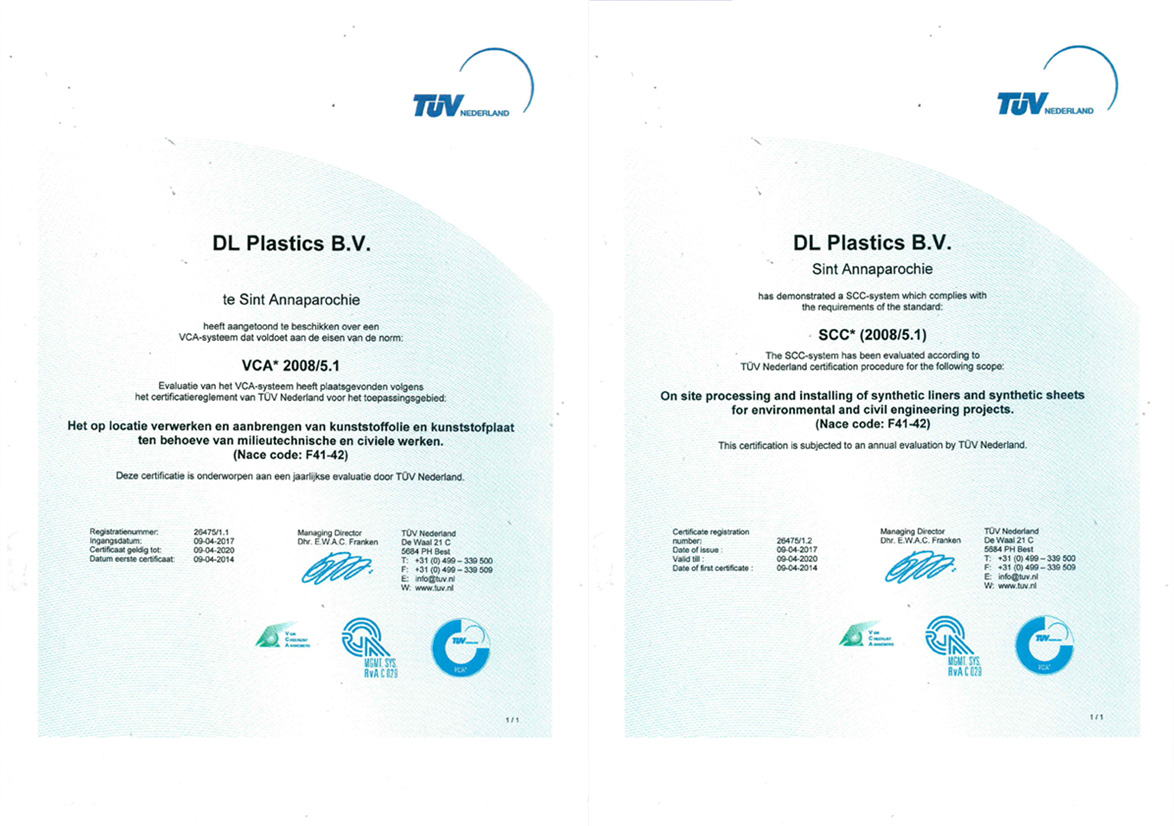 De Wissel 15 - 9076PT St. Annaparochie - The Netherlands - +31 (0)518 409700 -
info@delangeplastics.nl